The Sandbagger Golf Handicap Calculator App
Available for Android, Windows 8.1, 10 and phone.
Keeping your USGA calculated handicap has never been so simple as it is with using The Sandbagger Golf Handicap App.
Download and install the app
Create an Account
Enter a course name, slope and rating
Start entering scores
It is that simple. Once downloaded and installed and your courses are entered really all you do is open the app and input your score.
The Sandbagger Golf App Features
You will need to enter 5 scores to get a handicap.
Enter a courses slope and rating once and it is kept for eternity.
Edit a courses Name, Rating or Slope anytime.
Add Score: Simple – Select your course and enter your score. Round date is automatic but can be changed.
View, delete all scores entered.
View, edit golf courses.
Added Bonus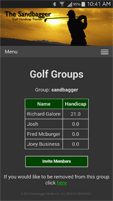 Create a golf group
o Invite your friends to join your group.
o View all group members' handicaps from the first tee before you get sandbagged.
Registering or login to the app gives you automatic premium membership to www.sandbagger.ca
Get it now